Pontoon Boats
All of Pond King's Pontoon boats are designed to get you on the water faster and keep you there longer so you can get more from your experience down at the pond. Whether you are looking to fish on your private pond by yourself, or cruise a lake with friends and family, Pond King's Pontoon Boats are a highly-stable, virtually maintenance-free option.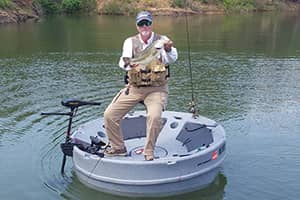 One-Man Boats
Choose from two unique, stable fishing platforms to enjoy a day out on the water by yourself.
Designed for easy transport
Economical
Sit high in the water for fishing
Stand up to cast or reel in your catch
Easy to get in and out
Trolling motor options
On-boat storage
No trailer needed
View collection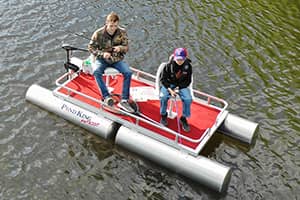 Mini Pontoon Boats
Our two-man Mini Pontoon Fishing Boats are extremely stable, low-maintenance, and made with innovative design for compact fun.
Low-maintenance
No tarping or bailing
Accessible and affordable
Highly stable so you can fish with confidence
DIY options for those who love a project
Easy to get in and out
Stand up while casting with room to move around
Seating up to 2 people
View collection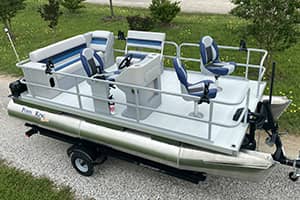 Small Pontoon Boats
This low-maintenance collection of pontoon boats was designed with you in mind so you can enjoy more time with friends and family.
Big enough to enjoy with family or friends
Extremely stable
Seating for up to 5 people
Affordable fishing option
Compares to bass boats
Maneuverable in tight spaces
Great for swimming, too
View collection
Customize Your Pontoon Boat
Pond King offers dozens of ways to customize your boat to fit your budget, suit your fishing needs, or simply build the boat of your dreams.
Reliable Stability
Our pontoon boats are highly stable for ease of getting on and off the boat, confidence to move around the boat while fishing, kneeling on the edge for catch and release, all while avoiding that unexpected dip in the water.
Low Maintenance
All of our Pond King Pontoon Boats are designed to be low maintenance with welded aluminum subframes, heavy gauge pontoons, and stainless steel hardware. Unlike other fishing boats on the market, Pond King pontoon boats do not require constant tarping, bailing, or general maintenance. Launch your boat once and enjoy your time on the pond.
Learn why our customers choose Pond King time and time again
★★★★★
We just ordered, and had delivered, the Pond King Pro and we absolutely love it. The quality exceeded my expectations and the thoughtfulness of the layout of the boat is exceptional.
Troy H
★★★★★
The Pond King Champ is simply the best designed product and the best buying experience I have ever had… period. Thanks Pond King!
Mark D
★★★★★
I looked for a small pontoon boat for over a year before I found Pond King. Pond King was the only company that met my needs. They built the perfect small pontoon boat - you won't be disappointed.
Craig W
Download Our Catalog
Learn more about Pond King's Pontoon Boats by downloading a digital copy of our product catalog.
Peace of Mind When Purchasing
We deliver our boats nationwide with a "Turn Around Guarantee." If you're not satisfied with your pontoon boat at delivery, we will "turn around" and refund your entire deposit. Rest assured, you will be buying the best pontoon boat on the market today.